Reading time 3 min
For your special photos that will be always carried with you in your personalized locket pendant we created a Photo Service It includes adjusting colors, sizes, the composition of your images in Photoshop, and laminating them in waterproof plastic, nevertheless, if you have some time you can do it yourself at home, just follow these simple instructions:

OVERVIEW
After many years of working with custom locket pendants, I discovered an easy universal method of installing photos for all kinds of shapes of lockets, so it doesn't need to be a Heart-Shaped Locket (although I like this shape because it is very harmonious and has the capacity to contain 2 faces on each side). This detailed tutorial will help you take measurements, print, make a template, transfer the frame contour, cut, make photos waterproof, and finally insert your picture. If your Locket already comes with a transparent plastic insert you may skip the "Making a Template" step below. Before you start your photo project be sure you have all materials and tools ready:


MATERIALS & TOOLS
Transparent Plastic Ruler, Self Adhesive transparent book covering film or high-quality sticky tape(Scotch), Fine Color Marker (yellow or red are the best), curved tip small Scissors, small Tweezers, wooden Toothpick, Standart plane or photo Paper "4x6", printer.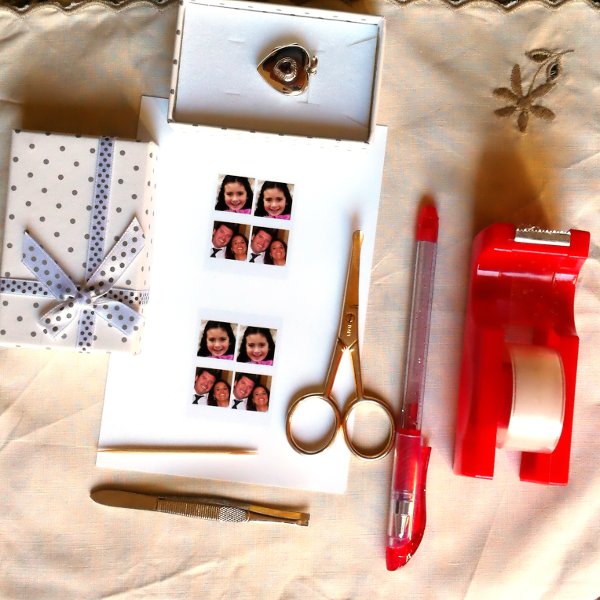 1. MEASUREMENT
With a plastic ruler please measure the longest distance between the locket frame extremities in the middle of the frame( see the photo). This will allow you to cut photos slightly bigger than the empty space of the frame (you need this extra space to hold the picture without glue). If you have a plastic insert take it out and directly measure its width and height.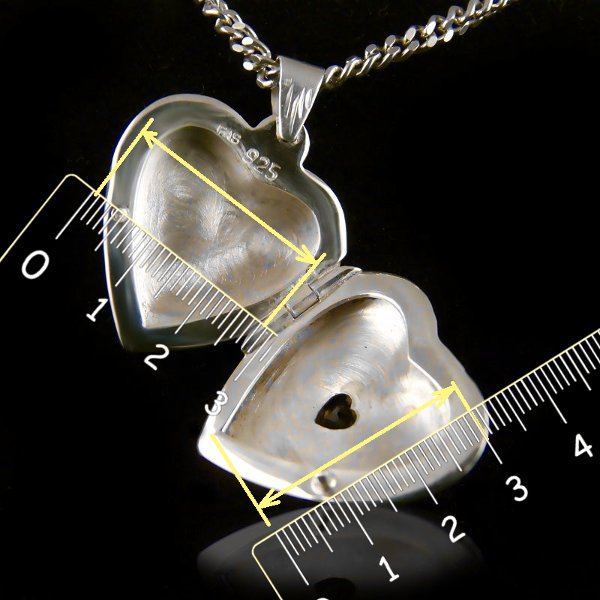 2. PRINTING
If you are not familiar with any photo editing programs like Photoshop or Gimp, I recommend using simple online photo editors like "OddPrints" or the special "Locket Studio" editor by Marathon. Open directly the link below to start a photo upload (you might need to read a guide at the bottom of this article to clarify how to use this online photo editor). The key thing is to make sure the image you upload has enough background around the subject's face so that they don't get clipped off, allow at least 1.5-3 mm free space. Download generated 102x152mm page (4"x6"). Adjust your printer paper size to this format and try to print first a black and white sample. You might need to adjust the height and(or) width with a "Scale" function after you printed a sample page.
3. TEMPLATE & CUTTING
To make a precise cut, we will make a template from sticky tape, precisely following the locket frame's contour. Just cover the left side (the side without a catch) with the tape (keep it as flat as possible, try not to press the center with your finger).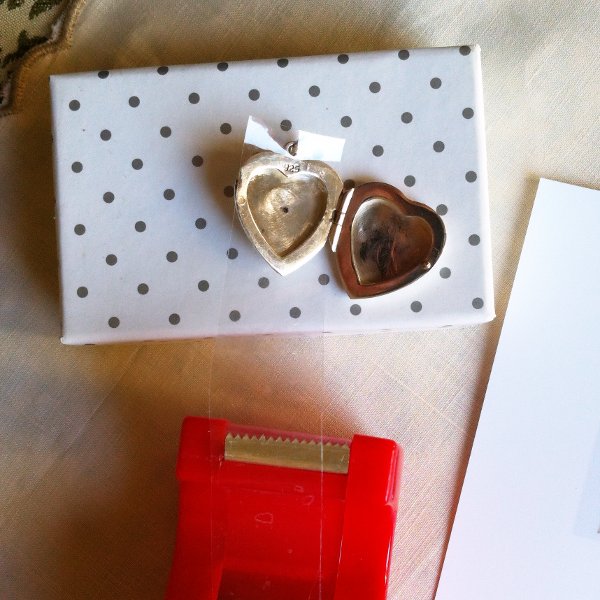 Now with a color marker draw the line of the inner edge of the frame.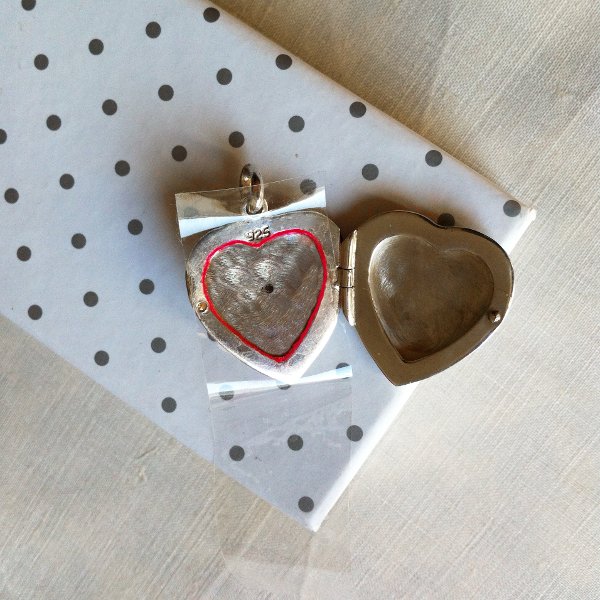 In this tutorial, we were using a permanent marker so I have to show you some tricks on how to make this template line disappear after the cut:
we can stick the tape template directly to the photo and erase the line with a piece of cotton slightly soaked in alcohol;
we can cut another piece of tape and cover the photo first, then we can just stick a template tape on the top of that tape and then just remove it after the cut(see photo);
or we can fix the printed photo page on the window(see the next picture) to make it transparent and stick our Template tape at the back of the page instead(this will work only for symmetrical frames).
You can start covering your photo with the template tape, put it on a hard and clean surface, press first at the center and push it outwards toward the edge, this will reduce air pockets.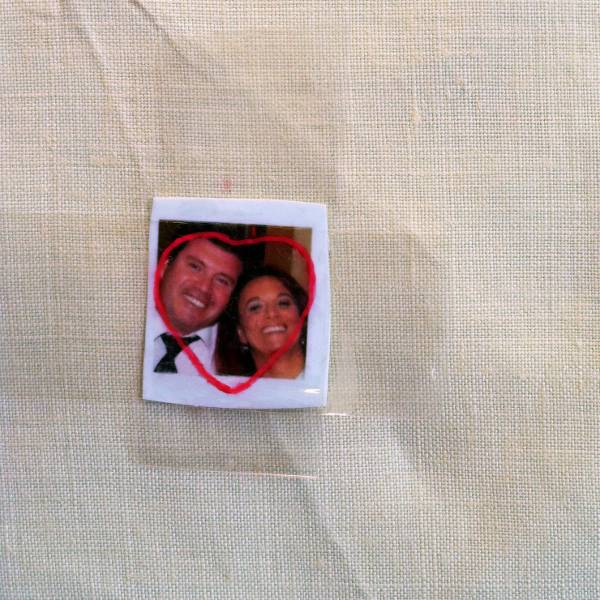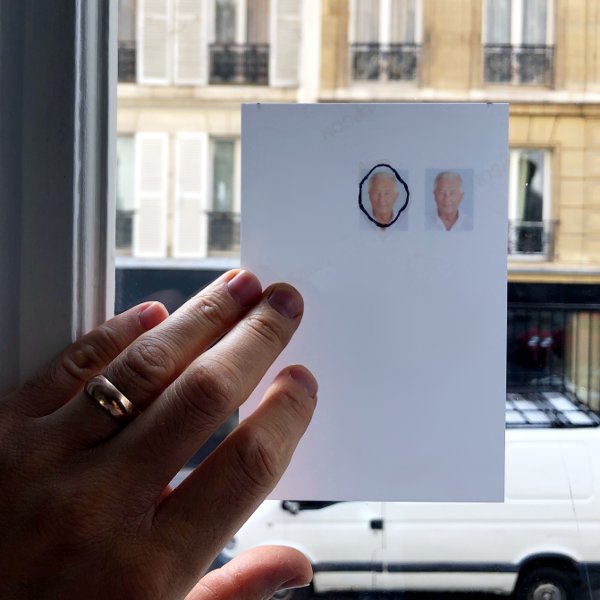 Now you can cut. Remember not to cut exactly on the line, make a small 2mm offset from the template line outwards. Before inserting the picture inside check if the locket catch is not on the way(see photo), if yes then place the cut photo on the top, mark the location of the catch, and make a little 2 mm triangular cut-out.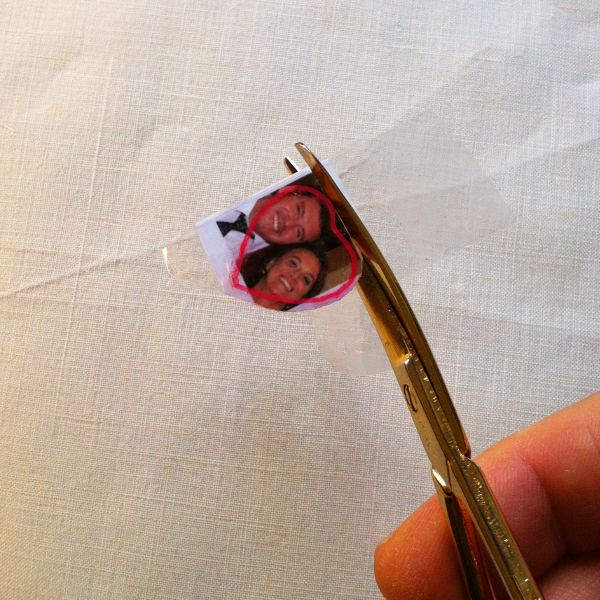 4. INSERTING
To finish the sealing of the photo we usually paint its edge with liquid silicon, but also bee or candle wax could be used. Start inserting a wider upper side of the heart first, and press slightly with two fingers to bend it in. Pick a toothpick and continue pushing and inserting it toward the point at the other end. If the end doesn't fit push the photo with your finger up. It should perfectly fit even if sometimes a little bit wrinkled at the bottom.
Never use any glue, because it will be difficult to remove the photo later, and also some glues can damage paper and plastic material with time. If you really need to glue it please buy a special double-sided tape or special transparent sticky silicon for photo albums.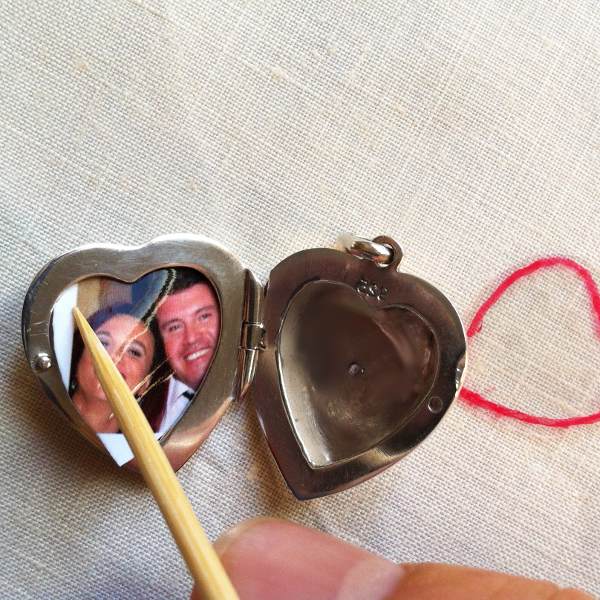 Repeat the same process with the other side of the locket and you are ready to give this personalized Present to your Loved ones.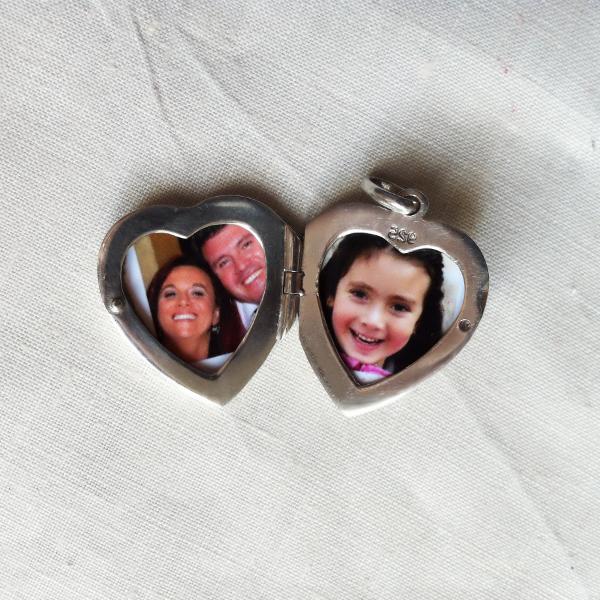 This video is also very useful if you want to use a plastification machine to make your locket necklace photos waterproof:
For more tips and new locket creations please subscribe to our newsletter mail
or visit our YouTube play_circle_filled ,  Instagram photo_camera , Twitter, Pinterest, or Facebookface page
Buy one of the ArsAura pendants and you will get 2 free photos installed inside by professionals!
Read this additional information and if you require any further information, feel free to  contact us